Safe Food Handling Test Challenge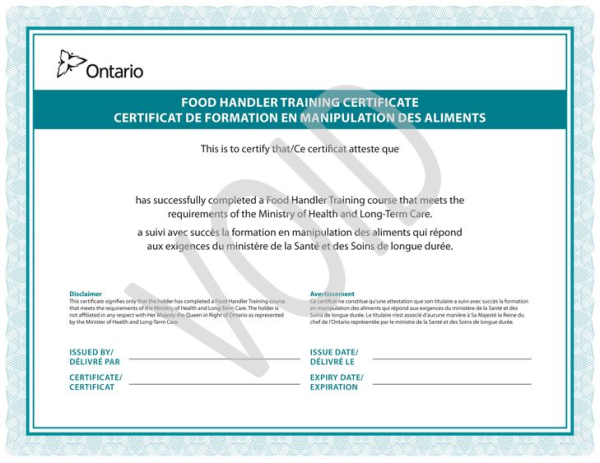 Training Description
Safe Food Handling is everyone's responsibility.
London Training Centre is pleased to provide Safe Food Handler Test Challenge certification in partnership with Middlesex/London Health Unit.
This certificate meets mandatory provincial food safety training requirements and is recognized by all health units in Ontario.
Safe Food Handling Test Challenges can be written; if you have finished the self-study options, have previously been certified, or do not require any study materials.
Bring photo identification with you to your test.
$15 / Per Person
For more information or to arrange a group training session contact:
Kristie Holden
Training Services Manager
Tel: 519 685-4331
Email: kristie@londontraining.on.ca
***Please note: There will be No Refunds***
Available Classes
Safe Food Handling Test Challenge - December 20, 2023 9:00 am
Safe Food Handling Test Challenge - December 20, 2023 11:00 am
Safe Food Handling Test Challenge - December 20, 2023 1:00 pm
Safe Food Handling Test Challenge - December 20, 2023 3:00 pm
Safe Food Handling Test Challenge - January 2, 2024 9:00 am
Safe Food Handling Test Challenge - January 2, 2024 11:00 am
Safe Food Handling Test Challenge - January 2, 2024 1:00 pm
Safe Food Handling Test Challenge - January 2, 2024 3:00 pm
Safe Food Handling Test Challenge - January 18, 2024 9:00 am
Safe Food Handling Test Challenge - January 18, 2024 11:00 am
Safe Food Handling Test Challenge - January 18, 2024 1:00 pm
Safe Food Handling Test Challenge - January 18, 2024 3:00 pm
Safe Food Handling Test Challenge - January 31, 2024 9:00 am
Safe Food Handling Test Challenge - January 31, 2024 11:00 am
Safe Food Handling Test Challenge - January 31, 2024 1:00 pm
Safe Food Handling Test Challenge - January 31, 2024 3:00 pm
Safe Food Handling Test Challenge - February 8, 2024 9:00 am
Safe Food Handling Test Challenge - February 8, 2024 11:00 am
Safe Food Handling Test Challenge - February 8, 2024 1:00 pm
Safe Food Handling Test Challenge - February 8, 2024 3:00 pm
Safe Food Handling Test Challenge - February 23, 2024 9:00 am
Safe Food Handling Test Challenge - February 23, 2024 11:00 am
Safe Food Handling Test Challenge - February 23, 2024 1:00 pm
Safe Food Handling Test Challenge - February 23, 2024 3:00 pm
Safe Food Handling Test Challenge - February 28, 2024 9:00 am
Safe Food Handling Test Challenge - February 28, 2024 11:00 am
Safe Food Handling Test Challenge - February 28, 2024 1:00 pm
Safe Food Handling Test Challenge - February 28, 2024 3:00 pm